Router, Mill, Drill, cut, engrave, weld, test, print, ...
endless possibilities with the High-Z and T-Rex CNC machines
High-Z Standard are multi-purpose CNC machines for routing, milling, drilling, engraving, sculpting, and more. There are more than 6500 High-Z machines sold making them the most popular CNC machine from Europe in this category.

They are exceptionally rigid and precise compared to other desktop CNC systems. So you can work in almost any material such as wood, wax/resin, foam, plastic, glass, stone, and metal.
The Standard models have ground and surface hardened guide ways and ball bearings at both ends of trapezium spindles (lead screws).

Available in three sizes: S400, S720, and S1000.
High-Z Turbo was designed for even better precision, but above all, for higher speed and greater longevity.
Turbo CNC models have ball screws and ball screw nuts, as well as additional Hiwin linear guides. So they are suitable for long and continuous operation. They are favored by start ups, small businesses, research facilities, and in testing situations.
With the vast range of CNC accessories and configuration options you'll be stumped to find a better machine in this price range.
Available in five sizes: S400T, S720T, S1000T, S1400T, and S1400/105T.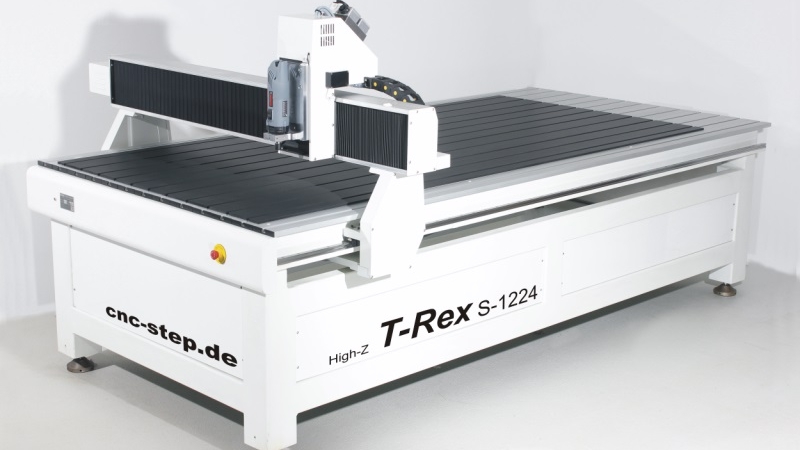 T-Rex is the latest addition to our range of gantry style CNC machines. It has a steel frame, HiWin and/or THK linear guides, and it is faster, more rigid, and more powerful than the High-Z. And there are larger sizes - up to 4 x 8 ft (1200 x 2400 mm).
The T-Rex CNC series was mainly designed for working with sheet materials. But there is no shortage of possible applications, since most of the High-Z accessories can also be used on the T-rex. So routing, milling, tangential cutting, engraving with laser, painting with airbrush, and much more is possible
if you are running a small business and need a reliable, fast, and precise CNC machine then your search ends here.

Available in four sizes 0609, 0712, 1215, 1224.
ACCURACY AND PERFORMANCE OF THE HIGH-Z MACHINES
So why are these CNC machines so popular?
And how come the accuracy and performance is so great?
General construction
The High-Z was born from 32 years of experience in mechanical engineering. They now have a proven track record with well over 7000 units being used all over the world. And they are the most popular CNC machines in Europe.
For the construction, only very high-quality parts are used to ensure maximum rigidity and performance at their price point. Combined with a unique design, optimized geometry, and an overwhelming range of accessories, our CNC machines offer the best price/performance ratio in the industry and the most versatile machines on the market. And keep in mind, if you don't find what you are looking for, please drop us a line to discuss a custom solution.
Want to get technical? Ok, then head over to the specs tables on the machine pages. But let's just mention a couple of things first. The High-Z use very high precision ground and 62 Rockwell hardened linear guides (22 mm X and Y, 16 mm Z). This offers very high rigidity and prevents twisting. So you can work on hard materials as seen in our YouTube videos.
Also, all spindles are running in ball bearings at both ends, so there is no vibration affecting the motor mounts and support.
The repeatability of these CNC systems is approximately 10 µm, and maximum backlash is about 20-30 µm for the Standard series and µm um for the Turbo CNC line.
Usage
Not only are the machines extremely well built, they are also easy to use. No experience is necessary. The most intuitive production level software is used as standard. But of course, you may have other preferences. If so, there are no real proprietary limitations on what software you can use. To learn more about CAD/CAM/control options, check out our recommended software.
Maintenance
Another thing that people love about the High-Z is the ease of maintenance. Some acid and resin free grease and oil at suitable intervals is all it takes. Keeping the machine and the work area tidy and free from swarf and debris is also recommended of course, although that is primarily to create a safe and organized work environment.
Longevity
While talking about maintenance, let's look at longevity. The machine with the "shortest" life before needing any replacement parts is the Standard series. They have lead screws and nylatron nuts. After long and repeated use the nylatron nuts will wear and need to be replaced. This is easy and inexpensive to do. We'll send you a video when you get there. But even for this model the lifespan can be unbelievably long. Take this example.
A customer brought a High-Z for service and updating after 7 years of continuous use. It had been used about 5500 hours routing and milling wood, aluminum and plastic. It had not been serviced since purchase, and despite being used daily, it only had a backlash of about 0.2mm on the X and Z axis. After $350 service with new parts, the machine had been restored to factory specs. Now, the ball screws/nuts on our Turbo series are expected to have 3-5 times longer life span. These are machines that will serve you well for a very long time.
Specific construction detail
Most competing machines are made with a Y-Axis center that is located too high above the machine base. Of course, with high gantries there are high forces of flex during milling applications - especially when thin materials are used. This has a negative impact on machining accuracy as well as on the machine and tool longevity.
To illustrate the difference, have a look at the image below. It shows the force distribution lines forming a triangle. The strongest geometry is an equilateral triangle (all three sides are equal.)
Work surface
Ok, so what about the work surface. There are several options.
The most common is to utilize our T-slot tables and secure your stock material with steel pinch clamps, toggle clamps, or regular G-clamps.
You can also use a vacuum table. We offer very cost effective vacuum tables, and vacuum pumps, or you could make your own. A DIY vacuum table doesn't even have to be complicated. It could be as easy as a hole in an MDF sheet, a suitable gasket, and a vacuum pump or Shopvac.
Of course, as an inexpensive work surface, you could create an MDF table and skip the T-slot table all together. We do recommend a proper T-slot table though. If nothing else, we notice that many customer who don't get it with the machine often come back later and ask for it.
We also have low profile vices to secure smaller objects.
You may have an entirely different need, and as you may or may not know, it is quite common to create custom work fixtures for complex parts.
If your stock material is round or needs to be turned with precision, our RounDino 120 4th axis is another option to hold your work.
Working on large objects
This is a unique and very useful feature of the High-Z machines. They have two X motors on the sides if the machine frame. That means there is nothing underneath the CNC that is in the way if you take the T-slot table off.
So, if you remove the table, you have access to anything below the machine. In essence, that means you can work on materials that are bulky and even larger than the machine itself. Just place the machine on the object instead of putting the object in the machine.
Need to see some action? go ahead...
Not had enough yet? No problem.
Head on over to the Tube and browse there instead...
Looking for prices?
Easy, just tell us below what you need ...
wait - Don't miss out!
Get our news, deals, and updates now!